First of All, I want to welcome you for showing interest in us.
Let me tell you how we start the journey of Creative Marketers BD.
Before going to the story, allow me to give you a short intro about myself. It's Md Habibullah Habib, Founder & CEO of Creative Marketers BD. I've worked as an SEO Specialist. I also played the role of Assistant Manager and Manager in multiple companies. 
How does the journey begin?
As I mentioned above, I've done jobs in multiple IT companies. When I was doing a job, sometimes companies provided me tasks against Islamic Rules.
As Islam is my first priority, it was heartbreaking for me. I've changed several jobs but this situation becomes familiar to me. Then I decided to quit my job and start something new.
Then I founded Creative Marketers BD to help people in Digital Marketing without violating Islamic rules. Now, Creative Marketers, BD has several members devoted to their responsibilities.
CMBD is providing Digital Marketing Services both for companies and individuals. Want to expand your business locally or globally? Then CMBD is the perfect choice for you.
We have certain special persons in different categories. Whether, you are going to take SEO Service, Content Writing Service or Web Development, you are going to get the best service from us.
Things We Do
Now, allow me to tell you about our services. Currently, we are providing:
We are providing these services with perfection. Customer Satisfaction is one of the main focuses of CMBD. Currently, we have lots of happy clients & you can also become one of them. So, if you need any of the above services, feel free to contact us without any hesitation.
Things We Don't Do
As I have mentioned earlier, we don't do any kind of work that is against Islam or declared as haram in Islam. We are extremely sorry that we won't accept these kinds of tasks.
Apart from this, you can get the best service from us at a reasonable price.
Money-Back Guaranty
Your satisfaction is our main concern. From this thinking, we provide a money-back guarantee if you are not satisfied with our works. So, you don't have to worry about our service quality what so ever. Your money isn't going to be wasted.
*Terms & Condition Applied
Our Ethics
Creative Marketers BD is a strong believer in ethics. Sometimes we get offers from clients that go against ethics. We never make any kind of compromise with it.
At this point, allow me to share some conversations with you.  
"Ty asole ay related content er service amra provide korte parbo na in-sha-allah.

apni onno kono technology niche er content hole amader knock diyen.

R sorry vai doya kore kisu mone korben na. Muslim hisebe thakar sovaggo hoyese . ekdin to allah er samne hiseb dite hobe sobkisur. R Haram income er dara allah er kase kono ibadat kobul hoy na.

Antorik vabe dukkhito sob kotha thik howar poreo apnar kaj ta na korte parar jonno"-Our message to one of our clients. 
Some Screenshots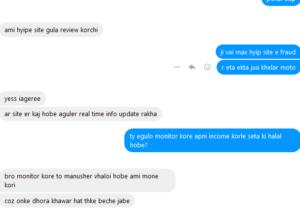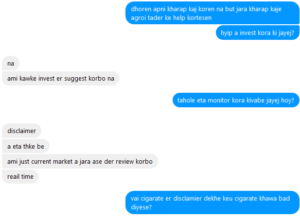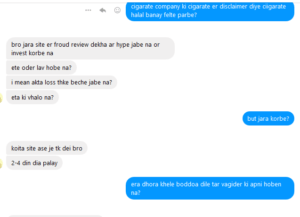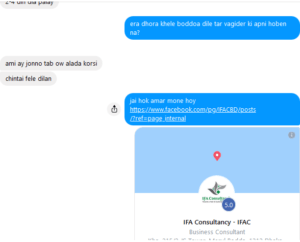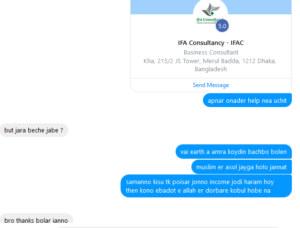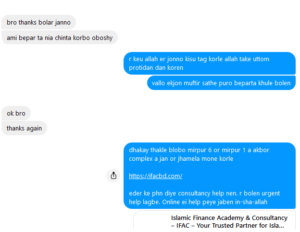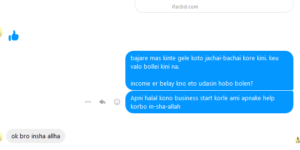 So, if you are related to Gambling, MLM, IPTV or Adult site please don't contact us. Creative Marketers BD never perform these types of haram work.
Our humble requests to all of you please stay away from these kinds of work. Sooner or later, we are going to regret our sins.
Our thinking
If you are also willing to work by following Islamic rules but finding it difficult, you can contact us. You can work with us as a team.
Are you already connected with Haram but thinking about giving it up? We can also help you at this point.
Have any queries? 
Do you have any queries or want to know more about us? Feel free to contact us. Send us E-mail or you can also fill up the contact form. Creative Marketers BD is always ready to hear from you. You can also call us on our given number. We will answer you and give you feedback as soon as possible.
Conclusion
I hope at this point, you have a clear idea about CMBD. Why you are making a delay then? Contact us now and start your journey with us. In-sha-Allah, it will be beneficial for your business.
Thanks for being here.